Thursday, March 10, 2010 – 7pm
Engineering Auditorium
On March 10th, San Jose State University will celebrate the Persian New Year just a little early. Norooz, the most important holiday in Iran and among Iranian Americans and other Persian-speaking people marks the arrival of the spring equinox. But this year, Norooz is also marking the arrival of the newly established Iranian Studies program at SJSU.
The event indludes musical concert by the Norooz Trio and poetry reading with four South Bay Iranian-American poets. The event, to be held at the Engineering Auditorium on March 10th, will feature three acclaimed Bay Area Iranian-American musicians: Mahvash Guerami (santour); Hossein Massoudi (vocals) and Pezhham Akhvass (tombak and daf).
The celebration of music and poetry is the inaugural event for Iranian Studies at SJSU, made possible through a generous donation of the PARSA Community Foundation. For the first time ever, SJSU will offer its students Persian language classes as part of their curriculum, beginning in the fall 2011 semester with the eventual goal of establishing a minor in Iranian Studies. Made possible through the vision of the PARSA Community Foundation, whose board selected San Jose State University as one of its major recipients for the 2010 Mehregan grant cycle, this important donation recognizes the importance of teaching Persian language for heritage and non-heritage speakers as well as introducing Iran's rich heritage to university students.
This grant will also enable the development of a lecture series, scholarships for students, and programs that help to bring the rich heritage of Iran, its culture and history to students at a major public university in Northern California. Because Silicon Valley is home to the second largest population of Iranian immigrants and their second-generation children in California, the Iranian Studies program also seeks to participate in the newly emerging field of Iranian Diaspora Studies.
This generous gift of $200,000 will enable San Jose State University to initiate Persian language instruction–something students at SJSU have been asking for– and will also allow the university to become a clearing house for Iranian and Iranian diaspora studies in Silicon
Valley and Northern California.
Under the direction of Persis Karim, coordinator of Middle Eastern Studies and Associate Professor in the Department of English & Comparative Literature, and Shahin Gerami, Professor of Sociology and Coordinator of the Women's Studies Program, Iranian Studies at SJSU will facilitate a country and culture that many see as both strategically as well as culturally important in the changing landscape of the Middle East. This grant furthermore
recognizes the important role that San Jose State University has played and continues to play in recognizing and supporting the people and cultures of its surrounding immigrant and ethnic communities.
The establishment of Iranian Studies will not only enable SJSU students to participate in the preservation of Persian language and culture, but will also introduce the culture and heritage of Iran and Iranian Americans to those interested in gaining a deeper understanding of Iran in the past and present. Iranian Americans passing through SJSU have made their mark in a number of fields and professions in Silicon Valley including in technology, computer and software development, as well as in real estate development. With this grant, we hope to recognize the contributions of Iranian Americans and
build a stronger relationship between the university and the larger Silicon Valley.
To learn more about SJSU's newly-established Iranian Studies program,
contact Persis Karim, Director, 408 924-4476 (persis.karim@sjsu.edu).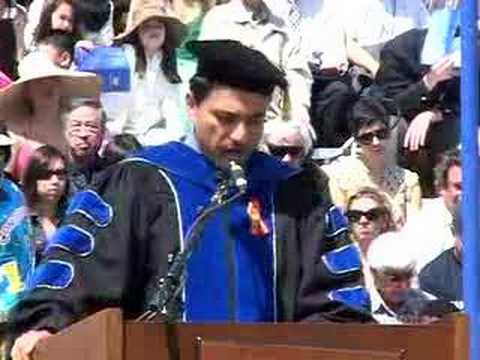 2007- Omid Kordestani's Commencement Address at SJSU