Chaharshanbe Suri, also called the Festival of Fire, literally meaning Wednesday Feast is an ancient Iranian festival dating back to at least 1700 BCE. it is a prelude to Nowruz, which marks the arrival of spring.
The celebration usually starts in the evening, with people making bonfires in the streets and jumping over them singing zardi-ye man az to, sorkhi-ye to az man. Loosely translated, this means you want the fire to take your paleness, sickness, and problems and in turn give you redness, warmth, and energy.

There is no religious significance attached to Chaharshanbeh Soori and it serves as a cultural festival for Persian people: Persian Jews, Muslims, Armenians, Kurds, and Zoroastrians, as well as for Azeri peoples. Indeed this celebration, in particular the significant role of fire, is likely to hail from Zoroastrianism.
It is also mentioned that the festival symbolizes the fact that human has to face his ultimate fears and does so by jumping over the fire.
During the Chaharshanbe Suri, divination, especially by listening to the conversations of the passers by and interpreting what is heard (Fal-Gush) as a sign is quite common.
.
.
.
.
.
.
.
.
.
.
.
.
.
Photo source: Bahram Tondran JameJamOnlin.ir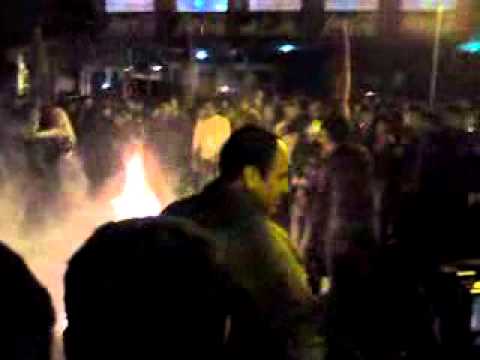 2011- Chaharshanbe Suri in Armenia