Saturday, April 2, 2011
Lotus Tribe, Novato 2-4pm
Come celebrate the Iranian New Year (Now Rooz)!
You and your children are cordially invited to participate in an enchanting train ride conducted by the Giant Gandhi Puppet of Peace. Our guest speaker and presenter of this international project, Jes Richardson, is a school teacher and resident of Novato, CA. 
This new year he and the Giant Gandhi Puppet will be sending a message of Love to the children of Iran. All ages are welcome and this event is free.
Refreshments will be provided.
Donations are encouraged.
Donation Suggestion: $5-10
Jes Richardson will be on tour this summer to build a bridge of understanding between the children of two nations, Iran and America. Adults are also welcome to cross this bridge by joining Jes and the children in singing a new love song to the Iranian children. The song is written and composed by local musician and song-writer, Ted Wright.
At the end of his national tour, Jes plans to appear on The Late Show with David Letterman. We are very excited to be hosting this event and hope you can join us! We do need children between the ages of 8-16 years old to participate in this demonstration and sing the love song in front of the local media and camera people. It is anticipated that the video will circulate around the internet so we will be needing parental consent prior to your child's participation. We will have the words to the song in viewing distance of the children. Also, if you know of anyone who might be interested in attending this event, please feel free to forward this invitation to them. To learn more about The Bridge of Hearts project and vision you can visit the website: www.bridgeofhearts.org
Participants must sign and fax or mail us the photo release form.
Lotus Tribe
5420 Nave Dr.
Novato, CA
Lotus Tribe Inc. : A 501(c)3 Non-Profit Arts & Ecology Organization : samira@lotustribe.org
http://www.organicdigitalart.com/lotustribe/bridgeofhearts/
http://www.lotustribe.org/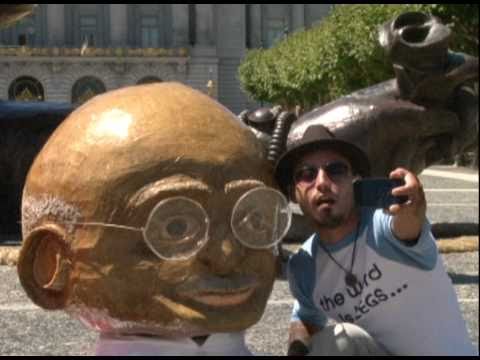 San Francisco got "gandhied" in August 2010 - Asking what people would like to say, from the heart, to the Iranian people.