The government of Syrian President, Bashar al-Assad, has promised to make the Kurdish New Year's festival of Newroz into an annual national public holiday, starting in 2012.
The city of Qamishli (northeastern Syria on the border with Turkey, predominantly Kurdish, Arabs and Assyrians/Syriacs) is renowned for throwing a large Christmas parade every year in December, and celebrating Newroz festival by a large crowd every year in March.

In Kurdish legend, the holiday celebrates the deliverance of the Kurds from a tyrant, and it is seen as another way of demonstrating support for the Kurdish cause.
The Kurdish people, are an Iranian people native to the Middle East, mostly inhabiting a region known as Kurdistan, which includes adjacent parts of Iran (5-8 Million), Iraq (5-7 million), Syria (1-2 Million), and Turkey (14-20 million). They speak the Kurdish language, which is a member of the Iranian branch of Indo-European languages.
Nowruz with different spelling shows up in the official calendars of following twelve coutries; Iran, Tajikistan, Azerbaijan, Afghanistan, Kazakhstan, Kyrgyzstan, Albania, Turkmenistan, Uzbekistan, Autonomous Region of Kurdistan (part of Iraq), Georgia and Syria.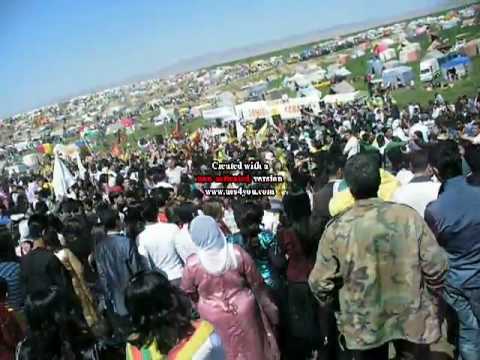 Over the half a million Kurds celebrate Newroz in Drejike near to Qamishli