Sunday, February 28, 2010 – Washington, DC
Sunday, February 13, 2010 – Berkeley, CA
This edition of Masters of Persian Music features two of the most important figures in Persian classical music touring with the next generation of musical masters! Kayhan Kalhor on kamancheh and Hossein Alizadeh on tar are joined by remarkable young vocalist Hamid Reza Nourbakhsh.
Funded in part by the D.C. Commission on the Arts & Humanities, an agency supported in part by National Endowment for the Arts
Alizadeh is considered an inspiration to an entire generation of Iran's musical culture. Trained in composition, performance and musicology at the Universities of Tehran and Berlin, he also studied with the ostads (maestros) of Persian music including Ali Akbar Khan Shahnazi, Nur Ali Borumand, Abdollah Davami, Mahmood Karimi and Houshang Zarif.
Alizadeh has been both conductor and soloist with the Iranian National Radio and Television Orchestra. He founded the Aref Ensemble and performed with the Shayda Ensemble, both dedicated to the promotion and advancement of Iranian classical music. Alizadeh has recorded the entire body of the radif (a core set of works made up of about 200 short modal pieces called gushehs) based on the
interpretation of Mirza Abdollah (1843-1918), a noted court musician and master of both the Persian setar (a four-stringed plucked lute) and the tar.
Alizadeh has himself composed many works of contemporary and neo-classical Iranian music including "Hessar," "Ney Nava" and "Song of Compassion" and film scores including Gabbeh, A Time for Drunken Horses and, most recently, Turtles Can Fly. Alizadeh has performed extensively throughout the United States, Europe and Asia and has appeared on many radio and television programs around the
world. He has taught at the University of Tehran, the Tehran Music Conservatory and the California Institute of the Arts.
Kayhan Kalhor is an internationally acclaimed kamancheh (spike-fiddle) virtuoso and has played a leading role in popularizing Persian music in the West. A member of Yo-Yo Ma's Silk Road Project, his compositions appear on all three of the ensemble's albums and three of his recent recordings have been nominated for Grammys. Said the New York Times last season, "When Mr. Kalhor performed, it
sounded like a conversation among several instruments, with the varying timbres at times evoking the wailing pleas of disconsolate lovers. From a simple, muted beginning, the music became more intense and embellished, as ornate melodies and ornaments unfolded with calligraphic detail above ostinato bass patterns."
Kalhor began his musical studies at the age seven and at 13 was invited to work with the National Orchestra of Radio and Television of Iran, where he performed for five years. At 17 he began working with the Shayda Ensemble of the Chavosh Cultural Center, the most prestigious arts organization in Iran at the time.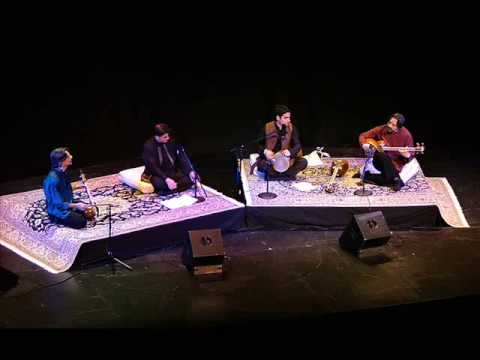 Kalhor has traveled extensively throughout Iran, studying the music of its many regions, especially of Khorason and Kordestan. He has soloed with a number of leading ensembles, including the New York Philharmonic and the Orchestre National de Lyon, and is co-founder of the renowned ensembles Dastan, Ghazal: Persian & Indian Improvisations and Masters of Persian Music.
Kalhor has composed works for Iran's most renowned vocalists Mohammad Reza Shajarian and Shahram Nazeri and has performed and recorded with Iran's greatest instrumentalists. Kayhan has also composed music for television and film and was most recently featured on the soundtrack of Francis Ford Coppola's Youth Without Youth in a score on which he collaborated with Osvaldo Golijov. Last season, composer John Adams invited Kalhor to perform a solo recital at Carnegie Hall as part of his Perspectives Series and in the same year Kalhor appeared on a double bill at Lincoln Center's Mostly Mozart Festival.
The Masters of Persian Music ensemble also includes vocalist Hamid Reza Nourbakhsh, a leading disciple of Mohammad Reza Shajarian. Accompanists are M.R. Ebrahimi (barbat or oud, plucked lute) Alireza Hosseini (tombak, single-headed goblet-shaped drum), Rouzbeh Rahimi, (santur, a hammered dulcimer) and Siamak Jahangiry (ney, flute).
Kennedy Center Tickets:
Sunday, February 28, 2010 – Washington, DC
Washington Performing Arts Society
The John F. Kennedy Center for the Performing Arts
Berkeley's Zellerbach Hall Tickets:
Sunday, February 13, 2010 – Berkeley, CA