The 612-page report, HRW's 20th annual review of human rights practices around the globe, summarizes major human rights trends in more than 90 nations.
Human Rights Watch cited Sudan and China as countries that routinely shut down human rights groups and Iran and Uzbekistan as countries that openly harass and arbitrarily detain human rights workers and other critics.
.
In Iran, Human Rights Watch covered the continuing governmental crackdown on peaceful activists following the disputed presidential election of June 2009. Human Rights Watch documented the arrests of thousands of ordinary and high-profile people, providing detailed accounts of state violence against peaceful protesters, arbitrary detention of human rights defenders, and abuse and torture in Iran's illegal detention centers.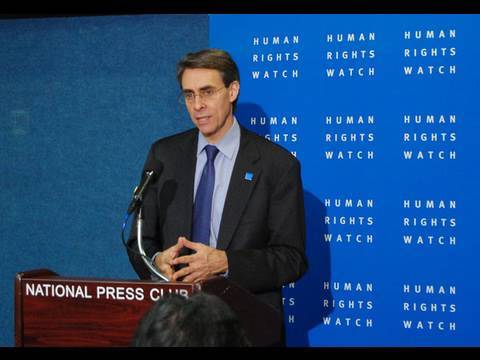 Disbarring Lawyers
In June 2009, following the disputed presidential elections, the Iranian government adopted new regulations that severely limit the independence of the Iranian Bar Association, giving the government control over a lawyer's right to practice. Until then, the Bar Association, which has the exclusive power to grant or deny licenses to practice, had resisted government efforts to rein in lawyers who defend human rights.
Criminal Charges
The Iranian government has arrested scores of NGO activists and sentenced them to prison on the grounds that their work or speech allegedly "harms national security" or that they are "foreign agents." Members of Kurdish rights organizations have faced even worse, with lengthy prison sentences, including the death penalty, for their work reporting on rights violations affecting the Kurdish community. In 2008, the government sentenced to death Farzad Kamangar, a member of the Organization for the Defense of Human Rights in Kurdistan, claiming without proof that he was a member of the banned Kurdistan Workers Party (PKK). It also sentenced Sadigh Kaboudvand, who headed the group, to 11 years in prison for his NGO activities, along with prison terms for 12 of his colleagues.
Torture and Ill-Treatment of Political Prisoners
Following the disputed election, both ordinary protestors and prominent opposition figures faced detention without trial, harsh treatment including sexual violence and denial of due process including lack of access to lawyers of their choosing.
Freedom of Expression
Iranian authorities continued to imprison journalists and editors for publishing critical views, and strictly controlled publishing and academic activities.
Freedom of Association
The government increased restrictions on civil society organizations that advocate human rights and freedom of speech. Security forces on December 23, 2008 shut down the Center for Defenders of Human Rights, led by 2003 Noble Peace Prize Laureate Shirin Ebadi.
Death Penalty
Iran carries out more executions annually than any other nation except China. These executions frequently occur after unfair or political crimes with inadequate access to legal counsel.
Human Rights Defenders
The government escalated its crackdown on human rights lawyers in 2009, subjecting some to arbitrary detention, travel bans, and harassment.
Treatment of Minorities
The government continues to deny members of the Baha'i faith, Iran's largest
non-Muslim religious minority, freedom of religion.
See complete report on Iran and a few selected countries by clicking on the following  images.
Issues: Torture and Ill-Treatment of Political Prisoners, Freedom of Expression , Freedom of Association, Death Penalty, Human Rights Defenders, Treatment of Minorities
Since 2005 the government has prevented independent experts of the United Nations Human Rights Council from visiting to investigate alleged human rights violations.
___________________________
China

Issues: Freedom of Expression, Legal Reform, Human Rights Defenders, Migrant and Labor Rights, Sexual Orientation and Gender Identity, Women's and Girls' Rights, HIV/AIDS, Freedom of Religion, Tibet, Xinjiang, Hong Kong Special Administrative Region
___________________________
Issues: Counter-terrorism Measures and Human Rights, Common EU Asylum and Migration Policy
___________________________
Issues: Palestinian Armed Groups, Israel Defense Forces, Blockade , Palestinian Authority, Home Demolitions and Evacuations, Freedom of Movement, Arbitrary Detention , Expulsion of Asylum Seekers
___________________________
Issues: Civil Society, The North Caucasus, The Armed Conflict over South Ossetia, Migrant Worker Rights, Health Issues and the HIV/AIDS Epidemic
___________________________
Issues: Women's and Girls' Rights, Migrant Worker Rights, Criminal Justice, Arbitrary Detention, Torture, and Ill-Treatment, Freedom of Expression , Freedom of Religion
___________________________
Issues: Freedom of Expression, Assembly, and Association, Human Rights Defenders, Torture, Ill-Treatment, and Killings by Security Forces, Impunity
___________________________
Issues: Migrant Worker Rights, Torture , Criminal Justice System, Freedom of Association and Expression
___________________________
Issues: Death Penalty, Juvenile Life without Parole, Incarceration, Drug Policy, Rights of Non-Citizens, Women's and Girls' Rights, Sexual Violence, Children's Rights, Guantanamo, Indefinite Detention, and Military Commissions , Accounting for Past Abuses, Secrecy, Renditions
___________________________
Issues: Independence of the Judiciary, Prosecution of Political Opponents, Media Freedom, Labor Rights, Police Abuses, Prison Conditions
___________________________
Issues: Justice and Accountability, Conduct of Security Forces, Violence against Minorities, Women's and Girls' Rights, Access to Education, and Child Soldiers, Sexual Orientation and Gender Identity
___________________________
Source: HRW
Download the World Report (4MB) (PDF, 3.72 MB)
Purchase a printed copy of this report