By Mitra Rahmatian
& Mahyar Rahmatian
A magical dagger that can turn back time…wouldn't you like to own it?
Prince of Persia: The Sands of Time was showcased at WonderCon 2010 in San Francisco. It is the latest epic action-adventure film produced by Jerry Bruckheimer Films and Disney Productions and is based on the very popular Prince of Persia game trilogy created by Jordan Mechner.
Directed by Mike Newell, most recently known for his work on Harry Potter and the Goblet of Fire, the film places the orphan Dastan, played by Jake Gyllenhaal, in 6th century Persia. Adopted and raised to the level of Prince by the King after a show of valor, Prince Dastan joins  rival Princess Tamina to save a dagger that can turn back time from the hands of an angry ruler, played by Sir Ben Kingsley.
Gemma Arterton plays as the beautiful Princess Tamina, and Alfred Molina plays as Dastan's mentor, Sheik Amar.
The film was shot on location in Morocco and Pinewood Studios in London and will open on May 28, 2010, with a premiere in London on May 9.
Adaptation of Ancient Persian Literature and Culture in the film
The heroic and mythical tales of Ferdowsi's Shahnameh deeply resonated with Mechner and gave him the original idea for creating the game trilogy and later the screen story for Prince of Persia. In the original game, Mechner didn't name the rogue prince; but for the film, the writers went a step further and named the Prince after the legendary figure Zaal, Rostam's father. (رستم دستان – Rostam son of Dastan)
Through research and consultation with cultural experts, Newell believes that the film's creators took great care to present an accurate portrait of ancient Persia. The makers of the film based the fictional story's fabrics and architecture on 6th century Iran, yet remained close to its video game origins.
A Heroic Prince in the Making
The role of Dastan required a good deal of physicality from Gyllenhaal. Although pretty active and in excellent physical condition, Gyllenhaal started early preparing for his role as the swashbuckling Persian prince by training in horseback riding, gymnastics, sword fighting, and yes, free running.
A video game fan as a kid, Gyllenhaal found his game-playing research "pretty fun" and necessary in drawing parallels between Dastan and his video persona.
Gyllenhaal also worked with a dialect coach to acquire an English accent to blend well with his British-actor peers. He joked that he "threw out the British accent at the dinner table with his family." And that he "keeps the sword around" in case he gets strange questions at news conferences.
To most of his fans, Gyllenhaal is an incredibly gifted dramatic actor with leading roles in films such as the cult classic Donnie Darko and the Oscar- winning Brokeback Mountain topping  his body of work. Although he had to "learn to act on a physical level" Gyllenhaal found his work on Prince of Persia "no different than other roles." To him, using imagination and remaining committed to his roles keep his perspective as an actor constant.
Both Newell and Bruckheimer gave Gyllenhaal a great deal of credit for his commitment to the character and felt that his portrayal of Dastan made all the difference for the movie.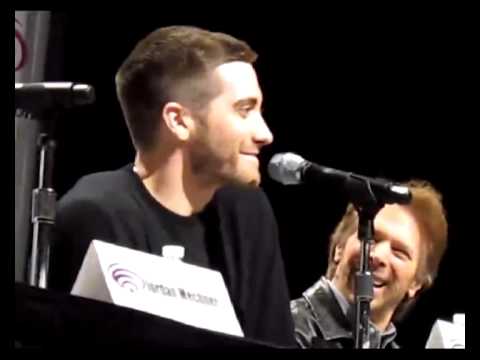 Jake Gyllenhaal on Free Running
Hopes for a Successful Project
Bruckheimer, known for his successful productions such as Pirates of the Caribbean trilogy, CSI and The Amazing Race television series among many others, is "keeping fingers crossed" for a big summer hit. The film's makers didn't employ the 3D effects that have come to rule the action-adventure genre recently, but Bruckheimer feels that a good story with good characters is still very important to tell.
When asked about the possibility of a Prince of Persia franchise, Bruckheimer strongly stated that his main goal was to "make a compelling movie." He added, "If you get lucky, you'll make another one."
Thanks to BoomGen Studios (boomgenstudios.com) for inviting payvand.com to the press conference and related events.
http://disney.go.com/Disneypictures/princeofpersia/