Naghali is narrating of important stories from the Iranian fables, myths and epics which have remained in the most important books since ancient times. A Naghal (storyteller) plays the roles of different characters with special tone, feelings and expressions.
Following Shahnameh Narration in English language is by Neda-afarid (Saghi Aghili), and the story is the Great War Between Iran And Turan.
.

Neda-Afarid's (Saghi Aghili) Naghali in English
Afrasiyab, King of Turan, made ready his army… there were joined unto him the hosts of the Khakan of China, and of the Kamous of Kushan, men mighty in the battlefield. ..and from Ind and all the highlands of Asia there came forth troops unto the aid of Afrasiyab. Afrasiab rejoiced, thereat for he was assured that if Rustem came not forth unto the aid of iranians, and the men of Iran could not stand against my host.
When the two armies met, many and fierce were the combats waged between them, and blows were given and received, and swords flashed, and showers of arrows descended on all sides, the blood of brave men was shed like unto the shedding of rain from a black cloud.
Day by day were the Iranians weakened.
Dire was the wailing among the army of Iran at their sore defeat, and they turned them back discomfited.
And Kai Khosrau was angry when he beheld them, he withheld his countenance from the land.
Then he sent greeting unto Rustem, his Pehliva, for in him alone could he put his trust.
Piran, Afrasiab's minister said: " if Rustem be their leader, for him alone do I fear."
But Kamous said: "There is none, not even a mad elephant, that is mine equal in the fight."
Rustem made ready a host to go unto the succour of Iran .
When the men of Iran heard this, they set up a great shout, and their hearts seemed to come back into their bodies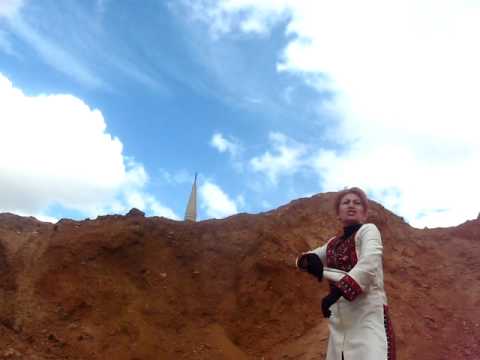 Neda-Afarid's (Saghi Aghili) Naghali in Persian