Jan. 28 – Feb 6 2011
EIF aims to raise awareness of Iranian culture and helps to integrate it with other cultures in Scotland.  There are seven categories (arts, books, comedy, film, food, lectures, and music) with events taking place in venues across Edinburgh.
The festival is being organized by a dedicated team of volunteers.
Opening Ceremony
- Lecture by Professor the Baroness Haleh Afshar
The event will involve a keynote lecture by Professor the Baroness Haleh Afshar, from Politics and Women's Studies in University of York. Professor the Baroness Haleh Afshar serves as a Crossbench Peer in the House of Lords. Professor Afshar will be delivering a lecture on British/Iranian/Muslim identity, a topic very close to the essence of Edinburgh Iranian Festival. The ceremony will include free refreshment, live piano music, and a private viewing of the Bazaar at the end of the ceremony.
Arts
- An exhibition by two contemporary Iranian artists, Maryam Hashemi and Haleh Jamali, exploring issues around cultural identity.
.
- Photography Exhibitions
Photos by a number of Iranian photographers, , with various parts of Iran or the Iranian culture as the subject matter. The list of artists confirmed to date include: Roxana Pope, Vida Sherkat, Sara Mohseni, Mehrdad Azmin, Bahar Azazdi, Maryam Ghorban-Karimi.
- School Exhibition
An exhibition at the Edinburgh Persian School, displaying the work of the pupils learning Persian there.
Mini Iranian Bazaar
- A mini Iranian bazaar, with various stalls selling Iranian products such as: accessories, handicrafts, musical instruments, postcards & greeting cards, CDs & Tapes, DVDs, food products, as well as a cafe/tea house.
The bazaar will contain a Cafe/Tea House (چایخانه), with a collection of Iranian snacks, as well as tea and coffee. The Tea House is hoping to include Iranian hot soup (Aash Reshteh – آش رشته) as well as other popular snacks and sweets. Cakes and sweets by the Green Gable Bakery will also be available at the Cafe.
Books
- Q&A and Book Reading: Ctesias at the Court of the Great King
- Books about Iran Available at Blackwell's
- Wine & Poetry
Bring your own bottle of wine (or flask of tea) and your favourite poem of one of Iran's or Scotland's well known poets. There will be distinguished guests attending this poetry night, such Iranian poets Soheila Ghodstinat , Mehri Kashani and Lobat Vala. Wine and poetry are two things that have been found side by side in Persian poems, and they shall unite once again in Scotland.
- Storytelling from Shahnameh
Shahnameh (or The Book of Kings) is an enormous poetic opus written by the Iranian poet Ferdowsi around 1000 AD and is a national epic of the Persian-speaking world. It tells the mythical and historical past of Greater Iran  from the creation of the world up until the Islamic conquest of Iran in the 7th century. We will be telling some of the stories contained within this masterpiece in English. Children and adults are both welcome.
Comedy
A comedy showcase by 3 British/Iranian comedians, Patrick Monahan, Peyvand Khorsandi and Sam Farzaneh. The comedy show will be held twice on the same night, at the glamorous venue of Voodoo Rooms. Refreshments can be bought at the various bars at the Voodoo Rooms before and after each show.
- Patrick Monahan
Patrick was born in 1976 in Ahvaz, Iran and is an Irish-Iranian stand-up comedian.
- Peyvand Khorsandi
Peyvand Khorsandi is an Iranian-born journalist and a stand-up comedian who lives in London.
- Sam Farzaneh
Sam is a professional photographer for the BBC World Service and an exciting newcomer stand-up comedy.
- Patrick Monahan
Childern's Comedy Hour , a comedy shown by Patrick Monahan, suitable for both children and adults.
Iranian Film Festival
Filmhouse cinema – This film festival is part of a Middle Eastern film festival which will be a pre-event to the 2011 Middle East Festival of Spirituality and Peace.
Lectures
- Series of Lectures on Ancient Persia
As part of the 2011 Edinburgh Iran Festival, and following on from last year's success, we invite you to a series of themed lectures presented by academic specialists from across Scotland's universities. The lectures will explore the history of ancient Persia and its legacy in the modern world. Organized by Dr Lloyd Llewellyn‐Jones, a specialist in Achaemenid history and culture, the Persia Lecture Series 2011 is sure to be a highlight of the Festival. Come early to get a seat!
Topics
Cyrus the Great: Dreams and Distortions
Persepolis and its Archive
Coins in the Achaemenid Persian Empire
Tourism, Marketing and Modern Iran
- Talk on Persian Tiles
Lecture by Friederike Voigt, the Senior Curator of Middle East & South Asia Department of World Cultures in the National Museums Scotland.
- Talk on Iranian Carpets
Persian Rug Village presents a lecture and exhibition on Persian carpets as part of the Edinburgh Iranian Festival 2011.
Music
- Magham Ensemble & Dunya Ensemble
A traditional music concert by the groups Dunya Ensemble and Magham Ensemble. Both groups play traditional Iranian instruments including tar, setar, oud, santour, and various percussions, as well as vocals.
Magham Ensemble showcases musical traditions from the different ethnicities in Iran. Dunya Ensemble plays Middle Eastern and Iranian music, although the band is formed of musicians from UK and beyond.
- Club Persia, Ceilidh & Live Music by GOL
A fusion between Scottish and Iranian music, at the glamorous Voodoo Rooms, with live music by the bands GOL and a Scottish Ceilidh as well as Iranian Pop Music by live DJs. Scottish and Iranian dance instructions will also be provided on the night.
GOL
The Edinburgh based 6-piece UK/ Iranian jazz, world, electronica band GOL was selected as part of the Scottish Jazz Expo at the Edinburgh Jazz Festival 2010. For the Iran festival GOL will be playing new material from their upcoming Album to be released in March 2011.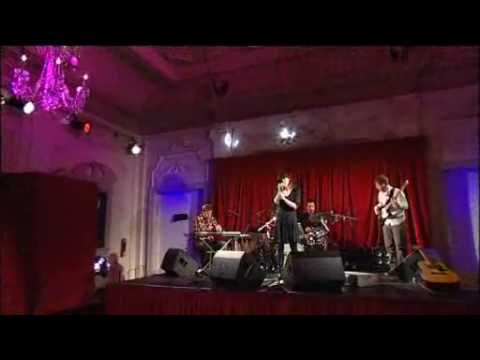 GOL
- Santour Music Classes
Learn how to play the beautiful Persian musical instrument of Santour, through introductory lessons during the Iranian Festival but the leader of the band Dunya Ensemble, Dr. Bouda Vosough Ahmadi.
Food
Special Iranian menus will be served during the festival period at three restaurants in Edinburgh. Make sure you visit all three restaurants as each one will be offering a different kind of Iranian cuisine.
- Ti Amo
An Italian restaurant opposite the Festival Theatre. The restaurant will be serving Iranian cuisine in a designated area with Iranian decoration, prepared specially for the festival. Please contact the restaurant for more information on their Iranian menu.
- Sabor Sito
A South American Coffee and Juice Bar near Edinburgh University George Square campus. Iranian dishes will be served at this cafe/restaurant during the Iranian Festival. Please contact the restaurant for more information on their Iranian menu.
- Iranian Tea House & Documentary Series
Drop into the nomadic tent at the Persian Rug Village to enjoy a cup of tea at their new "Tea House" (چایخانه). A series of documentaries will be screened during this period, helping you to discover various part of Iran, while enjoying your cup of tea inside the nomadic tent. Persian teas, green tees, fruit teas, and various other types of teas will be served in the tea house.
- Iranian Tea House at the Bazaar
The bazaar will contain a Cafe/Tea House (چایخانه), with a collection of Iranian snacks, as well as tea and coffee. The Tea House is hoping to include Iranian hot soup (Aash Reshteh – آش رشته) as well as other popular snacks and sweets. Cakes and sweets by the Green Gable Bakery will also be available at the Cafe
Games & Sports
- Persian Pub Quiz
A Pub Quiz with questions on Iran at the Greenmantle. Prizes include concert tickets, Filmhouse Cinema vouchers, money to spend at the bar, and more. Come as a team (6 people max. per team) or as an individual and join a team on the night.
- Yoga Classes
Yoga classes in Farsi and English, by one of Iran's most experienced Yoga teachers, with over 30 years of teaching experience. She has certificates from Sivananda Yoga Vedanta centres headquarter in Canada and Master in Yoga, Yoga Acharya, since 1999.
- 5 Aside Football Match
Sponsors
- How to sponsor our festival
If you would like to sponsor the festival, please contact us by e-mailing info@ediranfest.co.uk. If you are an individual, you can donate to our festival by writing a cheque to 'Edinburgh Iranian Festival' and/or getting in touch by e-mail.
- A few of sponsors
.
.
.
.
.
.
The festival is organised by a dedicated team of volunteers who won't be receiving any monies given to our special event. All monies will go towards funding events or future events organised EUPS.
e-mail:  info@ediranfest.co.uk
Edinburgh Iranian Festival 2011