This report is intended for internet users from Iran. In Iran, access to websites and services may be blocked and monitored by the Iranian government. This report summarizes the characteristics of a number of tools you can easily use to circumvent the blocking and monitoring system in Iran, and will help you to choose the right tool for your situation.
A number of users from Iran have been surveyed regarding the circumvention tools they use, and regarding how people generally access the internet.
Freedom House has also tested a number of tools that you can use in Iran if your internet connection is blocked. Although some groups have a more elaborate system for evaluating circumvention tools (see, for instance Tor Project ). Freedom House has tested three critical things about common circumvention tools for use in Iran:
- Their usability
- Their safety and security
- Their performance
Freedom House has also asked people from Iran which tools they use, and how well they perform in these three areas.
Choosing the right tool in Iran
Choosing the right tool to circumvent the Iranian blocking system is best done on the basis of how you intend to use the internet. If you intend to send sensitive information outside of the country, or to your fellow citizens, then you face more risks than people merely accessing blocked websites for casual internet browsing. For this reason, the first thing to ask yourself is whether you intend to send or receive blocked or illegal
information.
Next, you should identify whether you run a high or a low risk of punishment if this information is found and traced back to you.
Finally, we recommend that you decide on the speed that you will need to effectively use the internet. Just sending text messages on Twitter does not require an application that is as fast as what you need when you are sending a video to YouTube, for instance. Have a look at the schema below that sums this up.
Findings and recommendations for Iran
Most Iranian users indicated that they access the internet through a home broadband connection. They have an average need for secure communications, and prefer tools that work at good speeds. If you have the same preferences, you will find that Ultrasurf, Gpass, or Psiphon may be the right tools for you. Please note that Psiphon requires an invitation to use the system.
The Freedom House survey showed that people from Iran seem to prefer the following three tools overall:
- VPN connections
- Google
- Your Freedom
You may want to try these too, but keep in mind that the community of internet users surveyed did not have the benefit of this overview report at the time of the survey, and may have chosen these tools for various other reasons and in different situations, or perhaps even for the wrong reasons. In particular, using a tool that performs very quickly sometimes proves to be a risky choice.
This is especially true for Google, since they do not usually apply encryption to secure your connection.
Also, the faster the tool, the more likely it is to rely on a single service provider being available for the internet connection, which makes it easier to block.
Overview of technical testing
If you want an even broader overview of the options for circumventing the Iranian blocking system, please have a look at how other tools were tested by Freedom House as well. The following table sums them up.
Concluding recommendations
In closing, we draw your attention to the following recommendations from the Freedom House report:
- Many users prefer to have tools that perform at fast speeds. These are, however, not always the most secure options. It is important to understand the risks you potentially face when you attempt to circumvent your country's blocking infrastructure.
- Many users seem to think that when they do things quickly, the government may not notice. This is not true most of the time, however. If the government is able to intercept your internet connection, they will be able to see what you were doing afterwards.
- While these tools may be able to hide what you are doing online, they cannot hide that a circumvention tool is being used. If your government can intercept your internet traffic, they will also be able to detect that you were circumventing their blocking infrastructure.
We wish you safe surfing and hope your government will consider providing free and unfiltered internet access to your country in the near future. For the full report and a discussion of all the tools mentioned here, please visit the Freedom House website.
Dynaweb
DynaWeb is a collection of anti-censorship services provided by Dynamic Internet Technology Inc. (DIT).
Pro: Simpilicity - Con: Uncertifed SSL can be impersonated
Freegate
Freegate is an anti-censorship software for secure and fast Internet access. It was developed and maintained by Dynamic Internet Technology Inc.
Pro: Simpilicity – Con: Not much info on how it works – limited # of proxies
Freenet
Freenet is free software which lets you anonymously share files, browse and publish "freesites" (web sites accessible only through Freenet) and chat on forums, without fear of censorship.
Garden GTunnel
We provide free software to access Internet content blocked by totalitarian countries such as China and to protect Internet users' online privacy and security against Internet monitoring and censorship in those areas of the world.
Pro: Could use Skype, peer to peer for tunneling -  Cons: same proxies as Freegate/Dynaweb used
Google (Translate Reader Cache etc.)
Google Cache:
A user can access Googles cache servers to gather blocked content. To see the pointer to the cached content, the user needs to reach the Google search engine  (so Google must not be blocked or this method to work).
Google Reader:
Google offers users the possibilityto subscribe to news feeds through Google Reader,which gathers data on the user behalf (it acts like aproxy), and lets the user read it through the Gmail web interface.
Google Translate:
Google's translation service can be used to gather blocked content. By setting the source language to something diferent from what it is, and setting the target language to the actual source language.
Pro: No software needed to access block sites – Con: No security provided
GPass
- Support for streaming audio/video, email, instant messaging, download managers, as well as web surfing
- Encrypted socks tunnels and backup tunnels using Skype and Tor
- Integrated application firewall
- Green and free software: copy and run without installation
- English, Chinese, Farsi interface, Burmese manual
Pro: Latest tool and easy to use  – Con: Unaudited software – download site is often blocked
JAP
Makes it possible to surf the internet anonymously and unobservably
Pro: Portable application, servers can be added manually – Con: A research project
Proxy
Proxy.org is the pragmatic Web surfer's guide to online privacy and anonymous web surfing. We give you the information and tools you need to be confident and in command of your Web surfing experience.
Psiphon
Psiphon is a web-based proxy system that enables you to view Internet content that might be inaccessible in your region.
Pro: No software download, just clear the browser history – Cons: Not everyone in a blocked country knows someone that can provide access to a Psiphon node, use self-signed certifcate
Tor
Tor is free software and an open network that helps you defend against a form of network surveillance that threatens personal freedom and privacy, confidential business activities and relationships, and state security.
Pro: Advanceded project, highly distributed infrastructure Con: Slow, users need to finetune
Ultra Surf
Originally created to help internet users in China find security and freedom online, Ultrasurf has now become the world's most popular pro-privacy, anti-censorship software, with millions of people using it to bypass firewalls and protect their identity online.
Pro: Excellent performance, small footprint Con: Accusations of Trojan, no proven case yet
Your Freedom
The Your Freedom services makes accessible what is unaccessible to you, and it hides your network address from those who don't need to know.
Pro: Simple, extensive manual – Con: Focused on bypassing firewall not security of the user
VPN
A virtual private network (VPN) is a computer network that is constructed by using public networks or wires such as Internet to provide remote offices or individual users to get secure access to their organization's network.
Source: Freedom House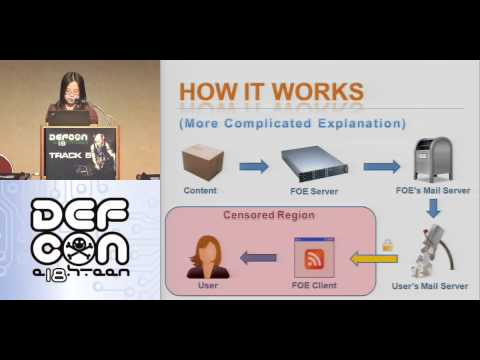 The Release of Feed Over Email News to Censored Countries 1/2