By Kenan Aliyev and Khadija Ismaylova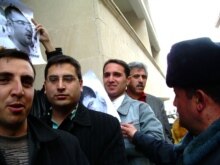 Journalists tried to picket the Council of Europe's offices in March to demand the release of three colleagues
(RFE/RL)
It's been more than seven years since Azerbaijan joined the Council of Europe, the continent's preeminent organization for promoting human rights and democracy. At the time of its admission, the move was hailed as a sign that Azerbaijan had graduated from the post-Soviet doldrums and taken a critical step closer to the league of Western states. Now, however, many question the usefulness of the Council of Europe to the country's democratic development.
The agenda of the Parliamentary Assembly of the Council of Europe's (PACE) annual summer session in Strasbourg on June 24 included a discussion of a report by the organization's Monitoring Committee on Baku's human rights commitments to the council. Its resolution accompanying that session warned that Azerbaijan's strictures on free expression, assembly, and association were "inadmissible in a Council of Europe member state."
It is ironic that nearly eight years later, PACE is still debating the commitments of a full member.
There is much to discuss. Three Azerbaijani journalists are currently in prison, as are dozens of documented political prisoners. (On June 24, the assembly demanded the release of opposition journalists Qanimat Zahid, Sakit Zahidov, and Eynulla Fatullayev, along with those of five others "seen as political prisoners").
Devolving election laws have left the country with a grossly uneven playing field; not a single ballot since Azerbaijan's independence has met international standards of freedom and fairness. (This week, the assembly highlighted a "deteriorating" rights situation that risked "undermining any efforts being made by the authorities to meet basic democratic standards" in a presidential election set for October.)
All of these outrages, and others, have occurred in full view of the Council of Europe.
We know that because the Monitoring Committee's report details the failures, and few successes, in full. "When joining the Council of Europe in 2001, Azerbaijan clearly opted for European standards with respect to democracy, rule of law, and human rights." While noting that a number of reforms are under way, the report expresses concern about the deteriorating human rights situation and its harmful effects on democratization efforts.
Better Off Today?
Given Azerbaijan's protracted poor performance on advancing basic freedoms, human rights, and democracy, the question naturally arises: What is the Council of Europe doing, and what does membership in the organization mean?
Fuad Mustafayev, the deputy chairman of the opposition Popular Front Party, has said Azerbaijan was a better place to live before it joined the council: "Across every indicator, things have only gotten worse. There is less rule of law, less personal security, less political freedom, worse educational institutions, and less hope in a bright future for our kids. All this has happened under the gaze of the council. So what did membership achieve? What was it for? It may have garnered some prestige and respectability for the country's leaders, but for most of the country's ordinary people, it's gotten us nothing."
It should be noted that some improvements have taken place in Azerbaijan as a result of its membership of the Council of Europe. Some aspects of the country's penal system have been tweaked; most notably, Azerbaijani citizens now enjoy the right of appeal to the European Court of Human Rights. The judiciary, however, remains corrupt and weak. And in a country of 8 million people, the presence of only 800 licensed lawyers raises questions about Azerbaijan's ability to build a country where laws and accountability govern.
Azerbaijan was recently been singled out by the global rights watchdog Freedom House for using its mounting energy wealth to suppress democracy in favor of a strongly centralized state. In 2002, a year after Baku joined the Council of Europe, Freedom House classified Azerbaijan as "partly free" in its maiden "Freedom in the World" report. By 2005 -- following a reverse trajectory than most Council of Europe newcomers -- Azerbaijan had been downgraded to "not free." It has remained there ever since. The 2007 report cites a "decline in press freedom, including President [Ilham] Aliyev's increasingly tight grip on the media," for the downward trend exemplified by its most recent rating.
Plain To See
Reports by international human rights organizations merely confirm the fact that Azerbaijan is backsliding into authoritarianism. The country has seen marked declines in key areas like political freedom. Political party offices have been raided, leaving all but ruling parties without even basic conditions for operation. Authorities have banned rallies in Baku's city center, the courts operate under the shadow of the government, and corruption is growing worse by the day.
Media freedom has deteriorated dramatically. Azerbaijan has broken records in terms of the number of journalists to be attacked or arrested. The press watchdog Reporters Without Borders has labeled President Aliyev a "predator" of the media. Just days before the PACE session, a correspondent with the "Azadliq" independent newspaper, Aqil Xalil, was denied permission to leave the country; it was the latest move in what is widely seen as an orchestrated campaign against him. A media activist was brutally beaten in police custody after participating in a gathering commemorating Che Guevara. He remains hospitalized in poor condition.
The Monitoring Committee addresses such issues in its report, saying, "Restrictions on the freedom of expression, the harassment and intimidation of opposition journalists through defamation court proceedings, imprisonment, physical attacks and threats, and limitations of the right to freedom of assembly and association are matters of great concern which the assembly considers inadmissible in a Council of Europe member state."
The Council of Europe has offered such stern words on numerous occasions, but little actual persuasion to change. It has even failed to intervene effectively on the Nagorno-Karabakh conflict, allowing Armenian and Azerbaijani lawmakers to appropriate their PACE sessions, turning them into battlefields to prove their patriotism to domestic audiences at home.
The president of PACE, Lluis Maria de Puig, is scheduled to visit Baku next week. Will he continue to perpetuate a bureaucratic process that has done very little to concretely advance freedom, rule of law, and democracy in Azerbaijan? Or will he raise the issues of imprisoned journalists, brutalized political activists, falsified elections, and eviscerated political parties?
Perhaps more importantly, what will he say about Azerbaijan's election slated for October, when Aliyev will seek a second presidential term? "The Parliamentary Assembly considers the forthcoming ballot to be crucial for Azerbaijan's democratic credibility," the Monitoring Committee notes in its report. "Azerbaijan cannot afford to fall short again in meeting Council of Europe commitments and standards for democratic elections." But the vote is a test not only for the Azerbaijani government. It is one for the council's competence as well.
Kenan Aliyev is the director of RFE/RL's Azerbaijani Service. Khadija Ismaylova is a correspondent in RFE/RL's Baku bureau. The views expressed in this commentary are the authors' own and do not necessarily reflect those of RFE/RL
---
Copyright (c) 2008 RFE/RL, Inc. Reprinted with the permission of Radio Free Europe/Radio Liberty, 1201 Connecticut Ave., N.W. Washington DC 20036. www.rferl.org

... Payvand News - 06/25/08 ... --